Water Proofing Little Rock
Restoration Jonesboro
Commercial Roofing Springdale
WE'RE HIRING!
Contact us today to get started on your next career!
Apply Now!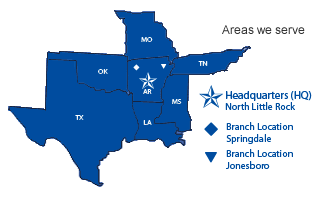 Commercial Building Solutions for Little Rock, Jonesboro, NWA and surrounding areas
Since our founding in 1968, by Raymond Roberts and Jerry McNutt,
Roberts-McNutt, Inc
. has established an unsurpassed expertise in the
commercial roofing
and
commercial waterproofing
industries as a leading licensed Arkansas contractor. Our market area includes the entire state of Arkansas, parts of Tennessee, Missouri, Oklahoma, Texas, Louisiana and Mississippi.
Waterproofing Services Include:
Masonry repair (block or brick) , specialty masonry coatings, stone repair, concrete repair, tuckpointing, terracotta repair, basement waterproofing, water repellent treatment , pressure washing, and caulking.
Commercial Roofing Services Include:
New and overlay roofs, flat roofs, low sloped roofs, metal roof coatings, and leaking roof repair. We install/repair single-ply, EPDM, BUR, PVC, Garden roofs, Metal Roofing and Modified Bitumen roofing systems.
We are proud to be an "Employee Owned" company and we will always strive to provide the latest in technology and innovation with full emphasis on safety, quality, service, and our unsurpassed commitment to your personal and professional satisfaction.
Roberts-McNutt is an experienced and professional commercial roofing and waterproofing contractor specializing in building restoration, rehabilitation and preventive maintenance. We take great pride in dedication and professionalism and provide our clients only the best. As a commercial roofing and waterproofing contractor, we require the highest standards in workmanship, materials and safety and provide only the best customer service and craftsmanship that continually exceed industry standards.
Learn more about Roberts-McNutt's craftsmanship, knowledge, and experience with commercial roofing by contacting our offices today at 1-800-467-1597 or email corporate@robertsmcnutt.com